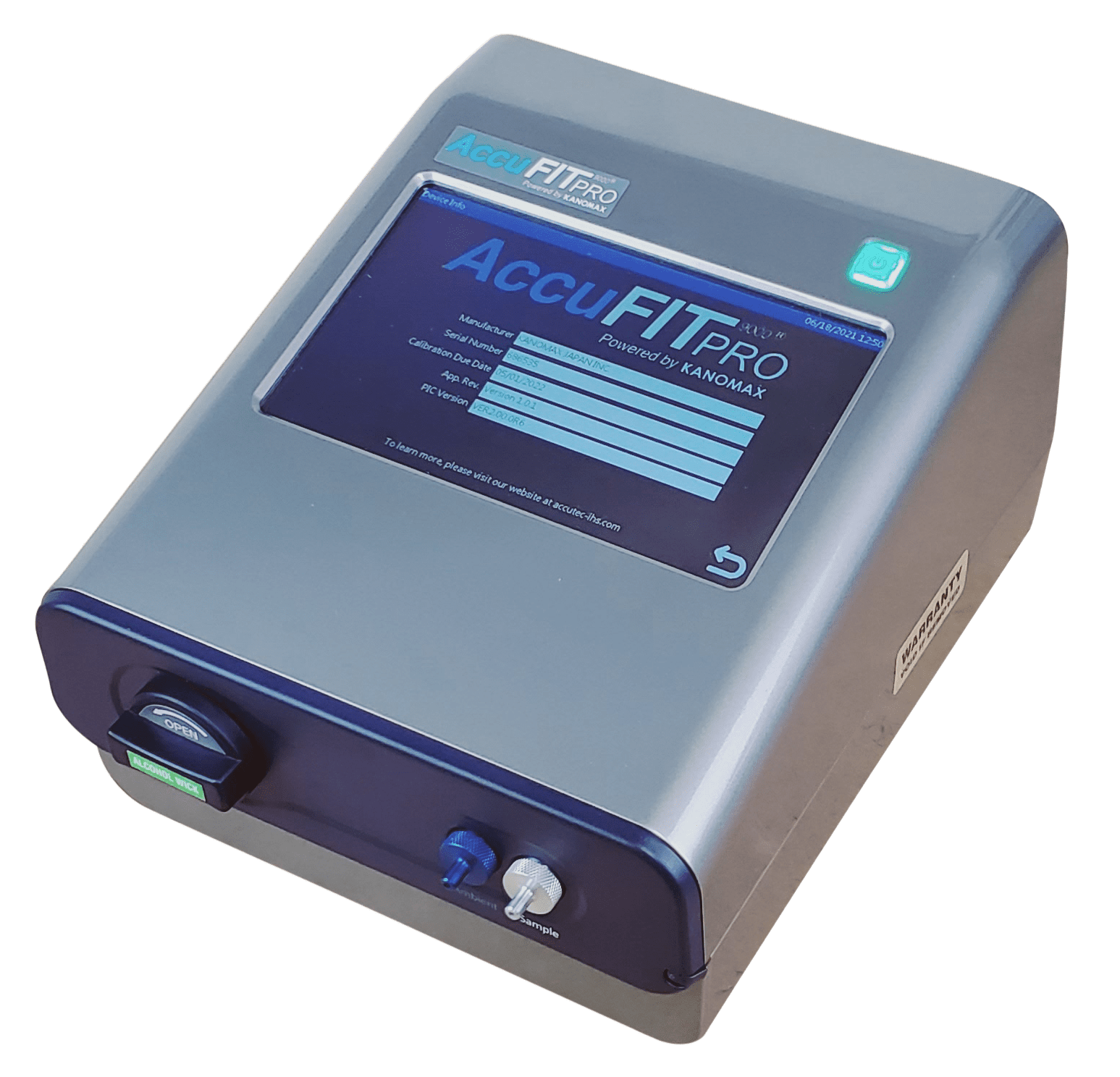 Even though OSHA first accepted quantitative respirator fit testing (qnft) methods in the 1980s, few companies have produced fit testing machines that use those methods. Products like AccuTec's AccuFIT and TSI's Portacount are among the only that exist on the market today for employers looking to use the qnft methods to protect their employees.
What is Quantitative Respirator Fit Testing?
Both quantitative and qualitative respirator fit testing are methods used to test how well a respirator mask fits, or how well the seal on that fit holds up to pressure or stress. Respirator fit testing is required for those fields that require the use of respirator masks for the employee and wearer's safety. Those include fields like:
Healthcare

Chemical/Lab

Military

First Responders (Fire)

Oil & Gas
OSHA provides standard protocols for respirator fit testing to ensure the safety of those workers.
Quantitative respirator fit testing is the most accurate, reliable, and verifiable fit testing method available. Because quantitative fit testing methods measure the leakage around a respirator mask when it is in use, they result in a data-driven fit factor that is backed by data and verifiable by testers and third parties.
Is Quantitative Fit Testing Better than Qualitative Fit Testing?
While quantitative fit testing uses defensible data to prove the effectiveness of a respirator's seal, qualitative methods rely on subjective account from the wearer of the mask.
Qualitative fit tests ask the subject of a test to sense a challenge agent by smell or taste and rely solely on the subject's reporting to determine the effectiveness of a respirator's fit. That kind of subjectivity is unreliable, often inaccurate, and indefensible.
In short, quantitative fit testing methods are the best options for ensuring the integrity of a respirator and the safety of a mask wearer. 
What Quantitative Fit Testing Machines are Out There?
When you are looking for quantitative respirator fit testing equipment, it is important to ensure that it meets the OSHA standards and CNC protocols. This will help to keep your employees safe when they are masked in the field or in the lab. 
There are some companies out there revolutionizing respirator fit testing with products and product lines dedicated to the quantitative fit testing method. Here are a few that you can trust.

AccutFIT 9000 and 9000 PRO by AccuTec
AccuTec has quickly made itself a leader in the Respirator Fit Testing Market with its flagship products – The AccuFIT 9000 and the AccuFIT 9000 PRO. Both machines offer the latest quantitative fit testing technology and adhere to OSHA's new CNC protocol.
These fit testers are made to work with any type of respirator including disposable face pieces like the N95 masks. In addition to OSHA, AccuFIT products are compliant with ANSI, CSA, and HSE protocols as well, making them a globally recognized fit testing solution.
AccuFIT gives you the capacity to test multiple units from a single computer or to work with the machine as a standalone without the need for PC operation. Perhaps most importantly, while being among the most effective respirator fit testers on the market, the AccuFIT machines are more affordable than their competitors.

Portacount by TSI
The Portacount was one of the first quantitative respirator fit testers on the market. Like the AccuFIT machines from AccuTec, the Portacount boasts the ability to test many types of respirators including gas masks, SCBAs, respirators, and some models can even test the most popular disposable masks on the market.
The Portacount machines are stand-alone units that do not require a separate computer for operation making them more portable and easy to use.
TSI offers several models of their flagship quantitative fit testing device – the Portacount:
Portacount 8030

Portacount 8038 – Capable of testing N95 , P1, and P2 disposable masks

Portacount 8040

Portacount 8048 – Capable of testing N95 , P1, and P2 disposable masks
The models come with various accessory kits and serve slightly different needs. Make sure you read the product details carefully when shopping for a Portacount machine from TSI.

Quantifit by OHD
OHD is also producing a quality quantitative fit test machine in their Quantifit 2 and Quantifit Legacy products.
Unlike both the AccuFIT products and the Portacount products, Quantifit from OHD uses the controlled negative pressure (CNP) method of fit testing. While easy to perform and time efficient, with the approval of the CNC protocols by OSHA, many experts believe that CNP testing is no longer the most effective test available for respirator fit testing.
This video will tell you more about the differences between CNP and CNC respirator fit testing and which method is right for you.
Since Quantifit uses no consumables and air as a challenge agent in its fit testing method, it does offer the unique benefit of allowing you to redon the mask in the process of fitting. Its redon procedure has also been accepted by OSHA as meeting fit testing standards.